Sep 23 Cleantech Energy Storage Finance Forum
Description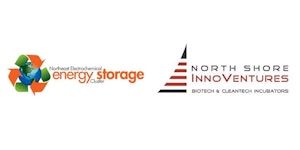 Please join us on Wednesday, September 23, 2015 from 5:30 PM to 7:00 PM for a Cleantech Energy Storage Finance Forum at the Massachusetts Clean Energy Center, located on the 3rd floor, at 63 Franklin St., Boston, MA 02110.
Organized by Northeast Electrochemical Energy Storage Cluster and North Shore InnoVentures, the Forum will feature short "pitches" from several startup companies in this market space and an interview presentation.
Tentative Agenda:
5:00 – 5:30 Registration and Networking
5:30 – 5:40 Welcome and Introductions
5:40 – 6:00 Company Pitches
6:00 – 6:30 Energy Storage Panel/Interview
6:30 – 7:00 Networking Reception
If you would like to be considered for the company "pitches" or you need more information, contact Paul Aresta at 860-291-8832 or Tom Ollila at 781-789-6160
A special thanks to the Massachusetts Clean Energy Center.
Location
Mass Clean Energy Center
63 Franklin St., 3rd Floor
Boston MA 02110
USA
Date and Time
Begins: 09/23/2015 05:30 PM
Ends: 09/23/2015 07:00 PM
Organizers:
About NEESC – www.neesc.org
The Northeast Electrochemical Energy Storage Cluster (NEESC) is a network of industry, academic, government and non-governmental leaders working together to provide energy storage solutions. The cluster is focused on the innovative development, production, promotion and deployment of hydrogen fuels and fuel cells to meet the pressing demand for energy storage solutions.
About NSIV – www.nsiv.org
The North Shore InnoVentures (NSIV) is a non-profit, supported in part by state and federal grants as well as corporate sponsors, which helps subsidize the facilities and services we offer. Collaboration is at the heart of our model. We bring shared physical resources, sponsor services, experienced entrepreneurs and investment advisers together with promising young companies.
Transportation:
Transportation:
You are encouraged to use public transportation. Parking is also available at the LAZ parking garage located at 33 Arch Street, Boston, MA 02110 Tel: (617) 204-9268
Cost & Registration:
The cost of this event is $35. To register,
click here…
Add to my Outlook Calendar
http://www.123signup.com/SignUpReport/Org10897Event186416.vcs
Add to my iCal Calendar
s01.123signup.com/calendarservlet?orgId=10897&eventId=186416
Add to my Google Calendar
http://www.google.com/calendar/event?action=TEMPLATE&text=Sep 23 Cleantech Energy Storage Finance Forum&dates=20150923T213000Z/20150923T230000Z&sprop=null&details=Details: https://www.123signup.com/event?id=pzprg&location=Mass Clean Energy Center, Boston, MA
Event Links